For Department Administrators: Changing User Passwords
This page describes how department administrators can change user passwords.
Notes on Changing Passwords
Users Whose Passwords Can Be Changed by Department Administrators
Department administrators can change the passwords of the following users:
Members of the department for which they have administrative privileges
Users who do not belong to any department
Notes on Applying the Password Policy
When changing user passwords in Kintone Users & System Administration, the password policy settings are not applied.
Set a password with sufficient digits and complexity according to the following page:
Rules for Password
Procedure
Check "rules for password".

Click in the header.

Click Users & System Administration.
Accessing Kintone Users & System Administration

Click Departments & Users.


Enter a display name or a login name of the user in the search box to search the target user.
You can also expand the department tree and select the target user.

Click for the user.


Click Change Password.

On the "Change Password" dialog box, select an entry method and set a new password for the user.

Select "Disable password expiration" as needed.
Selecting this option disables the password expiration for the selected user, regardless of the password policy setting.

Save the password and notify the user of it.
Refer to Send New Password via E-Mail to send the information via e-mail.
Click Save to send the password information by other means than e-mail.
Generating a Password Automatically
When you select "Generate automatically" in the "Change Password" dialog, a password is generated using random characters.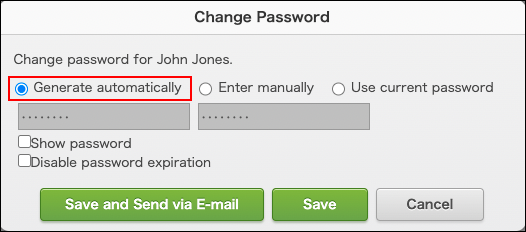 To check the generated password, select "Show password".

Entering a Password Manually
Select "Enter manually" in the "Change Password" dialog box.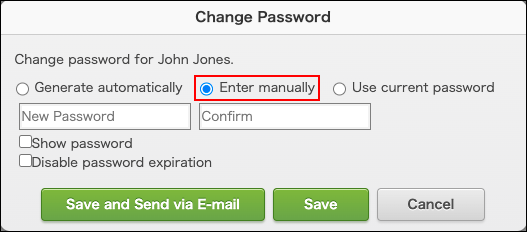 Sending the New Password via E-mail
On the "Change Password" dialog box, click Save and Send via E-mail.

In the recipient field of the dialog that is displayed, enter an e-mail address to use to send the password.
In the recipient field, the e-mail address that is registered in the user information is entered.
You can change the recipient as needed.

Edit the body text as needed, and click Send.